Newly Recertification Credit Provider for the Human Resources Certification Institute (HRCI), Performance ReNEW welcomes four executive-level consultants amidst growing efforts to include more leadership development and training in workplaces.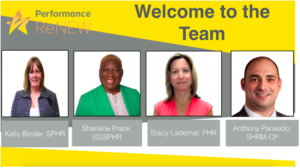 NEW YORK CITY, NY, August 25, 2019 — New York City-based leadership development and talent management consulting firm, Performance ReNEW, announced today that it has added four new consultants in response to the growing demand for leadership development and training needs from its current clients and future prospects.
"As we enter a new decade, organizations are responding to a heightened awareness of the need to assess and address cultural issues that are often barriers to creating inclusive workplaces," said Natasha Bowman, President, and Founder of Performance ReNEW. "With the addition of these four new consultants, we can meet the needs of these growing demands of organizations that are ready to create engaging and positive workplaces by providing transformational cultural solutions."
Kelly Binder, SPHR of Windsor, New Jersey, brings extensive operational experience from the retail sector. Additionally, Kelly spent several years as a Talent Development facilitator at Walmart Stores, Inc.
Sharlene Frank, GPHR, SPHR, SHRM-SCP of New York, New York is an accomplished human resources executive with an extensive career in creating executable strategies to drive talent acquisition, development and retention; global mobility management, and competitive compensation in a global environment.
Stacy Lademar, PHR of Ft. Lauderdale, Florida also brings extensive talent development experience. She has several years of experience training retail executives in diversity, feedback skills, team-building skills, and change management.
Anthony Paradiso, SHRM-CP also of New Jersey, has over ten years of HR leadership experience, with an expertise in employee relations and diversity & inclusion. Anthony is the Diversity & Inclusion Director for the Garden State Council-SHRM (GSC-SHRM) and is the VP of Diversity & Inclusion with the North Jersey-Rockland SHRM Chapter.
Performance ReNEW also announced that it has become an Approved Recertification Provider for the Human Resources Certification Institute (HRCI). HRCI certifies human resources professionals in eight certifications. Performance ReNEW is the only New York City-based HRCI certification preparation course provider and beginning in September it will be providing free webinars where certified professionals can obtain recertification credits.
"One of our goals is to develop the next generation of human resources leaders and providing free webinars for recertification credits is one way to ensure that our students that have achieved certification status through our program can maintain their credentials," says Bowman.
About Performance ReNEW
Performance ReNEW is a New York City-based leadership development and talent management consulting firm. Under the leadership of President and Founder, Natasha Bowman, Performance ReNEW, brings practical organizational cultural solutions to organizations throughout the United States through training and development, organizational assessments, and consulting services. For more information, visit: performance-renew.com
Contacts
Erica Banaski
erica@performance-renew.com
212-653-8728