Workplace Consulting - Training -
Culture Transformation - Keynote Speaking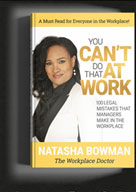 Amazon Best Seller!
Natasha Bowman, JD, SPHR
The Workplace Doctor
Founder and CEO
Performance ReNEW is a talent management and leadership development firm committed to helping organizations cultivate their most valuable asset: people. In the same way it takes a village to raise a child, we believe it takes a culture to raise an employee. That's why we don't just work with individuals to maximize their performance, but entire organizations as well—transforming workplace culture to breed a new class of high-performers tuned to meet the demands of today's marketplace.
Corporate America is moving forward: diversity and inclusionary are no longer politically correct buzzwords. They are living and breathing organizational realities that must be taken seriously. Sensitivity training is only the first step in eliminating bias, fostering creativity, and jumpstarting innovation. If organizations are going to attract top talent and steer clear of legal liability, they need more than just a new set of tools. They need someone to help them renew and realign their vision for the modern workplace.
That's where we come in.
Culture eats strategy for breakfast. Without an organizational culture tuned to this moment in the American workplace, no measure of strategic willpower will keep your workforce at the top of its game. That's why we always pair tactical information (specialized training) with cultural transformation (ongoing leadership development). Let us show you what that looks like and help you create an environment where leaders thrive, employees prosper, and everyone works together to conquer the impossible.
Our partners help us develop talented individuals from across the globe who will go on to
be future leaders and decision makers.

April 16th 2020, Lincoln Center, New York
IMPACT 2020
An Evening Of Courageous Transformation Through
Bold Conversations
Hosted by: Natasha Bowman
The Workplace Doctor

  Natasha made this the best Leadership Development Institute we've had in years.
Attendee- White Plains Hospital Leadership Development Institute.

  The Best Presentation at the Conference!
Attendee - SHRM Talent Management Conference

  Wow, I didn't realize how much I didn't know until I heard Natasha's presentation.
Attendee- SHRM Legal and Legislative Conference